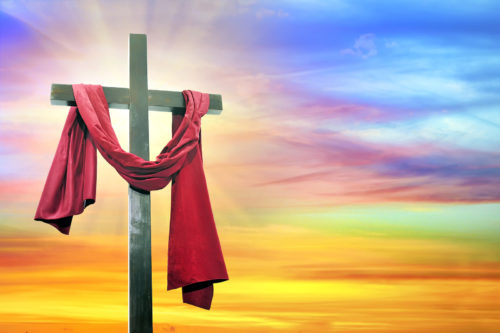 Losing a loved one is one of the hardest things we can experience here on earth.  Death is never easy.  Yet, the aching pain of loss is made even worse if we wrestle with the thoughts that our loved ones might not make it to the kingdom.  Death combined with that inclination is a recipe for the worst type of mental anguish.
However, these torturous feelings are not God inspired.  They are a direct result of the enemy playing with our emotions and taking advantage of the uncertainty we have about the future of our loved ones.  God says, "Don't let him play you like that.  I never intended for you to bear the weight of that heavy burden.  Just remember the thief."
The thief on the cross lived a life that was worthy of death.  He wasn't an outstanding Christian, nor did he claim to be.  He lived a life that by every earthly standard was out of order.  In the eyes of those who knew him it was obvious his heart wasn't right with God and therefore his fate was sealed, heaven would not be his home.  It is not hard to assume that his man had family members who were crushed by his life's choices.  Just imagine how his mother must have felt.  Her baby, the child she raised and loved had chosen to live a life that was worthy of death and had certainly disqualified him from the heavenly ranks.
I'm certain the devil tormented this mother with these thoughts the rest of her life.  She likely had no peace, but this was all for naught.  Unfortunately this mother was not aware of a special encounter her son had with Jesus during the last moments of his life.  She didn't know that God was working on her son's heart and prompting him to make a most profound statement, "…Lord, remember me when You come into Your kingdom."  And Jesus said to him, "Assuredly, I say to you, today you will be with Me in Paradise."  Luke 23: 42-43.  This mother never knew her son had secured his place in glorious eternity.
God is a last minute type of God.  His love for us runs so deep that He is fighting for our souls down to the very last breath.  He doesn't care if we spent all of our lives in wretchedness, if He can just penetrate our hearts before we take our last breaths He can claim us for eternity.  This is why God doesn't want us to carry the burden of worrying about whether or not our loved ones are saved.  That's too much for us to carry.  He wants us to just rest in the fact that He's God and He's got all of this under control.
This is just another reason I'm absolutely and totally in love with God.  He is so awesome and calculating.  Every story he put in the Bible is placed there for a specific purpose.  In His greatest moments of agony He yearned for the thief on the cross and in His yearning He looked down through the ages and saw every grieving mother, father, sister, or brother who would one day be burdened down with the thought, "Is my loved one saved?" It was at this moment He knew that His encounter with the unworthy thief on the cross had to be recorded in the Bible as a source of hope and encouragement throughout the ages.  Awesome God!
So, if the enemy has been torturing you with the burden of whether your deceased loved one made Jesus his or her choice drop that heavy burden.  Now look to Jesus and remember the thief.  God bless you all.
If this post has been beneficial to you please share it!  Also be sure to share your thoughts by commenting below.
Don't miss another post. Subscribe today!